with Ami Molinelli

March 4, 2019, 
7pm
Hello!
We are delighted you will be joining us for a Music Mondays workshop.
Here are all the details you will need and resources to help you prepare.
Event Logistics

Location: Drew School, 2901 Californa Street (at Broderick), San Francisco
Please come to the MAIN ENTRANCE on California Street. Doors will open at 6:30.
What to bring: Just yourself, ready to have a great time.
Attire: Dress code is casual/comfortable. Please refrain from wearing scented products such as perfume or hair spray.
A message from our mentor, Ami Molinelli
I'm looking forward to working with you and sharing my personal love of the syncopated rhythms of Brazilian samba!
We will talk about basic Brazilian grooves,  Northeastern rhythms, Samba, Bossa Nova, choro and also do some listening! I will be bringing percussion instruments like shakers, scrapers, tamborims and more.
Music
There are no music music selections for the workshop, but here are a few resources for those who wish to practice some Brazilian rhythm patterns and to learn more about this tradition.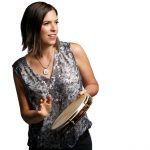 Ami Molinelli is a professional percussionist and educator specializing in Brazilian and Latin percussion. She co-leads the Brazilian and Jazz ensemble, Grupo Falso Baiano with two albums to their credit: "Simplicidade – Live at Yoshi's" and "Viajando em Choro e Jazz." Grupo Falso Baiano have been featured on NPR's the California Report, Radio Latina and Pandora LIVE!
Her percussion curriculum has been used and published in clinics and education workshops including the Los Angeles Philharmonic,The San Francisco Jazz Center, Los Angeles Music Center, Music in Schools Today, Young Audiences of Northern California, UFBA Ouro Preto, Brasil,  HeadStart (San Mateo County), Los Angeles Music Academy, California Brazil Camp, Jazz Camp West, etc.  Her curriculum, "Recycled Rhythm" was created for her artist residency of 7 years at the Los Angeles Music Center.  Currently Ami is a music integration and curriculum specialist with organizations such as The San Francisco Jazz Center, Living Jazz and San Francisco Unified School District.
Ami received her Master of Fine Arts from the California Institute of the Arts.  Her performance and recording credits include theater, television (NBC) and live performances with artists such as Luciana Souza, Hamilton de Holanda, Jovino Santo Neto, Danilo Britto, Nilson Matta, Romero Lubambo, Jai Uttal, and George Duke.