Hello!
We are delighted you will be joining us for a Music Mondays workshop.
Here are all the details you will need and resources to help you prepare.
Event Logistics

Location: Drew School, 2901 Californa Street (at Broderick), San Francisco
Please come to the MAIN ENTRANCE on California Street. Doors will open between 6:30 and 6:45.
What to bring: Just bring yourself!
Attire: Dress code is casual/comfortable. Please refrain from wearing scented products such as perfume or hair spray.
Canta Brasil - Bossa Nova workshop for singers
featuring Sandy Cressman
January 29, 7pm
This workshop will explore Brazilian vocal music in the bossa nova and samba traditions. We will explore the roots of Brazilian popular music, including rhythmic grooves, phrasing, vocal percussion and Brazilian Portuguese pronunciation. After a brief history of the development of the bossa nova with listening examples, we will learn 2-3 songs.We will also explore the musical details that will help bossa novas sound Brazilian, and how to integrate the authentic Brazilian feel into jazz repertoire.
Music
We will learn the music together at the workshop, so there is no sheet music to download.
Listen to the repertoire:
Handouts from the workshop: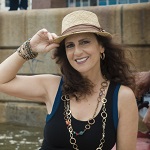 Sandy Cressman is a San Francisco-based jazz vocalist who began her career recording and performing with the Vocal Jazz group "Pastiche", before she focused on her passion for Brazilian jazz. Cressman's passion for Brazilian music led her to form "Homenagem Brasileira" in 1998. She has toured the US, Europe and Brazil and has released three critically acclaimed CDs, "Homenagem Brasileira" and "Brasil-Sempre no Coração", and "Entre Amigos, collaborating with other Brazilian musicians and Brazilian Music specialists.
In February 2017, Cressman released her third Brazilian music CD, "Entre Amigos", which features all original music she composed with contemporary Brazilian composers such as Santos Neto, Antonio Adolfo, Ian Faquini, and more. The CD was recorded in Brazil, Germany and the U.S. Cressman followed the release with a tour of Brazil. Cressman is an adjunct professor at the California Jazz Conservatory in Berkeley, California, Artist-in-Residence at the Nueva School in the San Francisco Bay Area, and she teaches at JazzCampWest, Stanford Jazz Workshop, Voice Conference Munich, and various workshops and Vocal Intensives in the US, Europe and Brazil.
Sandy has lent her vocals to recordings by such diverse artists as Ray Obiedo (Windham Hill), Pete Escovedo (Concord Crossover) and Eddie Money (CBS). Her love of languages and world music has led her to become a much-in-demand session vocalist for Latin and World Music artists. Sandy often performs with Rebeca Mauleon, Orquesta Candela, and Jai Uttal and the Pagan Love Orchestra. Sandy also composes songs for television and films, and most recently contributed a song, "Island Ways" to the film "Lulu on the Bridge" starring Harvey Keitel, Mira Sorvino and Vanessa Redgrave.