with Alisa Rose

October 22, 2018
Drew School, San Francisco
In this course we'll learn a classic bluegrass fiddle tune by ear. We'll look at how the bow is used in a fiddle tune to propel the rhythm and how the left hand slides and uses double stops to make the tune sound fiddle-y! We will also look at how to back up the tune rhythmically. 
Music
Here are the music handouts from Alisa: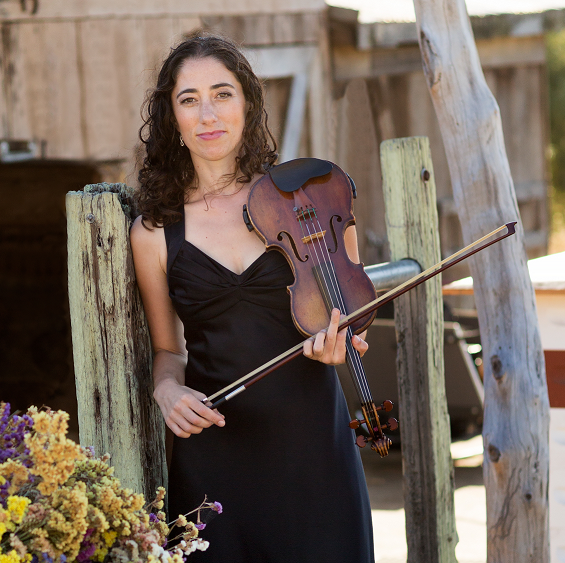 Violinist, improviser, and composer Alisa Rose pursues music across many genres.  Currently she is a member of the RossoRose Duo and Scroggins & Rose.  Alisa performed and taught throughout Eastern Europe as an Ambassador of the State Department with the Real Vocal String Quartet, and has performed at Carnegie Hall, on NPR's Weekend Edition, at TEDx Alcatraz with Bob Weir, as well as numerous international tours.  Alisa appeared with the bluegrass band 49 Special at the Rockygrass Festival where they took first prize in the band competition in 2008. From 2008 to 2012 Alisa performed with and arranged pieces for Quartet San Francisco; their record QSF Plays Brubek was nominated for a Grammy in 2009.  In 2015 Alisa premiered Richard Marriott's Concerto with Dartmouth Wind Ensemble released an album of her cross-genre virtuoso works for solo violin entitled Fiddle Caprices and Pizzicato Pieces.  Recently the RossoRose Duo premiered her "Piano Trio for Luisa"  and "Nocturne for America" as part of the Trinity Arts Chamber Music Festival.  Alisa teaches privately as well as in the pre-college division of the San Francisco Conservatory of Music, where she received her B.M. and  M.M.  in Chamber Music studying with Camilla Wicks and Bettina Mussumeli.
If you have questions
Please email us at info@amateurmusic.org and we will get back to you as soon as possible.