Hello!
We are delighted you will be joining us for a Music Mondays workshop.
Here are all the details you will need and resources to help you prepare.
Event Logistics

Location: Drew School, 2901 Californa Street (at Broderick), San Francisco
Please come to the MAIN ENTRANCE on California Street. Doors will open at 6:45.
What to bring: Clarinetists, please bring your instrument.
Attire: Dress code is casual/comfortable. Please refrain from wearing scented products such as perfume or hair spray.
Clarinet Master Class
featuring Jerry Simas

June 18, 7pm
Master teacher Jerry Simas will work with three chamber music ensembles on their chosen repertoire:
Blackwood Clarinet Ensemble - A Miniature Town by Rika Ishige
Occasional Chamber Players - Sextet for pianoforte, flute, oboe, clarinet, horn and bassoon by Gordon Jacob
Clarinet Trio Opus 114 by Johannes Brahms
A message from our mentor, Jerry Simas
I am looking forward to leading this Music Mondays clarinet class during which we'll explore tone development, technique, stage presence, improved practice tips, musicianship and artistry.
Special additions from the workshop
Music
There is no sheet music to download for this workshop. All clarinetists are invited to participate in a group warm-up and skills session before the master class begins, but you do not need to prepare any repertoire.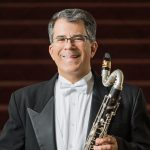 Clarinetist Jerome Simas joined the San Francisco Symphony in 2012, was a fellow at the New World Symphony and has held principal clarinet positions with such ensembles as the California Symphony, Oakland East Bay Symphony, and Akron Symphony. He is a member of San Francisco's Left Coast Chamber Ensemble. He received degrees from the Cleveland Institute of Music, and studied and performed chamber music at Marlboro. First prize winner of the International Clarinet Society Young Artist Competition and grand prize winner at the Fischoff National Chamber Music Competition, he has taught at UC Davis, Stanford, the San Francisco Conservatory, and the University of Oregon. He is currently a coach for the SFS Youth Orchestra.
If you have questions
Please email us at info@amateurmusic.org and we will get back to you as soon as possible.