with Phoebe Jevtović Rosquist
April 22, 2019, 
7pm
Hello!
We are delighted you will be joining us for a Music Mondays workshop.
Here are all the details you will need and resources to help you prepare.
Event Logistics

Location: Drew School, 2901 Californa Street (at Broderick), San Francisco
Please come to the MAIN ENTRANCE on California Street. Doors will open at 6:30.
What to bring: Your music.
Attire: Dress code is casual/comfortable. Please refrain from wearing scented products such as perfume or hair spray.
A message from our mentor, 
Phoebe Jevtović Rosquist
Medieval music is rich with wonderful melodies and harmonies that may strike the modern ear as haunting and unusual. We will discuss vocal techniques and early pronunciation, we'll familiarize ourselves with a few unusual modes, and we'll sing some of the most rewarding repertoire the so-called dark ages have to offer: "Ut queant laxis," (the "Doe, a deer" of gregorian chant), soaring music by Hildegard, a chace (round) by Machaut from his Lay of the Fountain, and gems from the Llibre Vermell and Las Huelgas manuscripts.
Music
Please print and bring with you to the workshop.
Here are three versions of Hildegard von Bingen's chant O virtus sapientia: the original manuscript and in Gregorian style for your reference, and a modern transcription you may wish to sing from.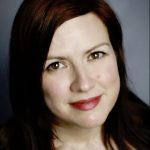 Phoebe Jevtović Rosquist's singing spans repertoire from the medieval to the contemporary, with a specialty in the baroque era.
Currently residing in Northern California, she was born in Germany and grew up in Cleveland, Ohio. Phoebe began her undergraduate studies at the University of Louisville with the intention of becoming a jazz singer, but soon discovered that early and classical music was her true calling.
She has appeared as a soloist with the Waverly Consort, Voices of Music, American Bach Soloists, Musica Angelica, Bach Collegium San Diego, and North Holland Opera. Roles Phoebe has performed include Despina in Mozart's Così fan tutte, Filia in Carissimi's Jephte, The Bride (soprano soloist) in Stravinsky's Les Noces (Svadebka), Amphitrite in Locke's Tempest, Cupid in Purcell's Timon of Athens, Josephine in Gilbert and Sullivan's H.M.S. Pinafore, and the title role in Rossi's Orfeo.
Among her varied collaborations are medieval/modern group Vajra Voices; baroque ensemble La Monica; medieval ensemble Cançonièr; art song with celebrated pianist Robert Thies; and early music and dance with Italy's visionary Art Monastery Project and Bologna-based Cappella Artemisia. Phoebe has also toured the US and Indonesia with Gamelan X (a Balinese/hybrid world music ensemble), and sung Balkan & folk music with Kitka and VOCO.
If you have questions
Please email us at info@amateurmusic.org and we will get back to you as soon as possible.