with Ellen Seeling

May 6, 2019, 
7pm
Hello!
We are delighted you will be joining us for a Music Mondays workshop.
Here are all the details you will need and resources to help you prepare.
Event Logistics

Location: Drew School, 2901 Californa Street (at Broderick), San Francisco
Please come to the MAIN ENTRANCE on California Street. Doors will open at 6:30.
What to bring: Your instrument and a music stand.
Attire: Dress code is casual/comfortable. Please refrain from wearing scented products such as perfume or hair spray.
A message from our mentor, Ellen Seeling
The Blues is everywhere! Once you start to hear these basic forms, you hear them all over the place. We all know the blues is fundamental to Jazz and Rock, and of course to the American Songbook. But you can even hear it in classical music. With its call and response form and familiar harmonic structure, the Blues is deeply a part of our musical DNA.
I'm looking forward to our workshop on May 6, particularly because I love the experience of people discovering their ability to improvise. It's fun to see people get the confidence enough to overcome their fears. All of us who have played for any length of time, we're focused on sounding good, and it's scary to take a chance on something new where we don't have a road map. But by providing a safe and encouraging atmosphere for new improvisers, we hope to give people a chance to try something completely new without worrying someone is going to judge them.
See you on May 6!
Please print your music and bring with you to the workshop.
Each of these songs is presented in keys for various instruments: Concert pitch (C) treble clef, Concert bass clef, B-flat, and E-flat.
Audio file: Fine & Mellow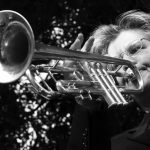 Equally adept at jazz, R&B, Latin and pop/rock, mentor Ellen Seeling has a multi-faceted career as a trumpet player, bandleader, educator and recording artist with over 35 albums to her credit, including three multi-platinum records with Chic and Sister Sledge. The first woman to earn a degree in Jazz Studies from Indiana University, the Milwaukee native moved to New York City in 1975. There she performed and/or recorded with The Thad Jones/Mel Lewis Orchestra, Machito Orchestra, Slide Hampton Big Band, Luther Vandross, Laura Nyro, Ray Barretto, Paquito d'rivera, The Temptations, Larry Harlow and Latin Fever, Joe Cocker, Cornell Dupree, Isis, Ben E. King, Martha Reeves, and Larry Elgart.
In 1980, Seeling and saxophonist/composer Jean Fineberg formed the jazz fusion band DEUCE, recording their first album of original compositions, DEUCE, in 1986, and their second, WindJammer, in 1996.The recordings earned a Jazz Feature Pick in Cash Box Magazine, and rave reviews in Jazziz, The Village Voice, the Kansas City Star, the Boston Globe and Windplayer Magazine. As Phil Elwood wrote in the San Francisco Examiner, Deuce plays "sensational on-the-edge jazz with electronic propulsion, classy arrangements, and wonderful performances...a sensuous Spyro Gyra." DEUCE has performed at Lincoln Center, Celebrate Brooklyn, the Three Rivers Arts Festival (Pittsburgh, PA), the Greek Theatre (Berkeley, CA), the Kansas City Women's Jazz Festival, Seventh Avenue South (NYC), and the Monterey Jazz Festival among others.
If you have questions
Please email us at info@amateurmusic.org and we will get back to you as soon as possible.