Workshop & Master Class
with Robin Sutherland
June 17, 2019,
7pm
Hello!
We are delighted you will be joining us for this chamber music workshop and master class.
Here are details about your workshop.
Arranging your private coaching

Each group will have a coaching session with Robin. These will be arranged individually once all members of the group have completed their registration. We anticipate each coaching will last approximately 90 minutes - 2 hours.
Location (if not otherwise specified): Drew School, 2901 Californa Street (at Broderick), San Francisco
What to bring: Your instrument (if not piano) and your music.
Event Logistics for the Master Class

Location: Drew School, 2901 Californa Street (at Broderick), San Francisco
Please come to the MAIN ENTRANCE on California Street. Doors will open to participants at 5:30 PM or by prior arrangement.
What to bring: Your instrument (if not piano) and your music.
Attire: Dress code is casual/comfortable. Please refrain from wearing scented products such as perfume or hair spray.
Regarding guests

Amateur Music Network donors are invited to attend the master class as a special thank-you for their support. Space is limited and we cannot guarantee there will be room for additional guests. We will let you know if space becomes available.
A message from our mentor, 
Robin Sutherland
What nicer way to welcome the Summer of 2019! I eagerly await these opportunities to immerse ourselves in this timeless music that knows no season...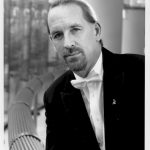 Robin Sutherland studied at the Juilliard School and the San Francisco Conservatory of Music. While still an undergraduate, he was appointed principal pianist of the San Francisco Symphony by Seiji Ozawa. The recipient of numerous awards, Sutherland was selected at 17 to be sole participant from the USA at the International Bach Festival, held at Lincoln Center. He was a finalist in the International Bach Competition in Washington DC and has performed all of J.S. Bach's keyboard works. An avid chamber musician, Robin Sutherland is co-director of the Telluride Chamber Music Festival and a regular performer at the Bay Chamber Concerts in Rockport, Maine. Many composers have dedicated works to him, and among the world premieres in which he has participated was that of John Adams's Grand Pianola Music. A frequent soloist with the SFS, Robin Sutherland has been featured in Leonard Bernstein's Age of Anxiety with Michael Tilson Thomas conducting. In 1996, his recording of Bach's Goldberg Variations was released on the d'Note label.
If you have questions
Please email us at info@amateurmusic.org and we will get back to you as soon as possible.