with the New Esterházy Quartet
February 19 & 21, 2019 at 7pm

Hello!
We are delighted you will be joining us for a special strings workshop.
Here are all the details you will need and resources to help you prepare.
Event Logistics

Tuesday & Thursday, February 19 & 21, 2019
7 pm
Location: Drew School, 2901 California Street (at Broderick), San Francisco
Please come to the MAIN ENTRANCE on California Street. Doors will open at 6:30.
What to bring: Your instrument, a music stand, and your music.
Attire: Dress code is casual/comfortable. Please refrain from wearing scented products such as perfume or hair spray.
Parking: Parking is difficult in this residential neighborhood. We highly recommend public transit: the 1-California and the 24-Divisadero lines both stop just a block away at California and Divisadero. If you must drive, please allow plenty of time to find parking.
A message from our mentors, the New Esterházy Quartet:
Whether the notorious (and glorious!) Mendelssohn Octet is an old friend, a new acquaintance or a total stranger to you, welcome! NEQ will offer some historically-informed perspective on one of the most exuberant and well-loved works in all of chamber music, along with practical suggestions for solving some of the problems typically encountered. Modern performance tradition for the Octet can sometimes become a liability, resulting in an unleavened and monochromatic reading. A fresh look at articulation, balance, bowings and phrase direction can breathe new life into your approach to this irresistible work of young genius.
Download your Music
Please download and print your part and bring it with you to the workshop.
Break-out coaching sessions will focus on the first two movements, and the workshop will culminate with a reading of the entire work.
PLEASE NOTE: in this workshop, all will be playing at standard concert pitch (440).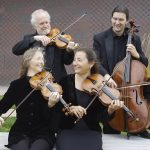 New Esterházy Quartet has been performing the works of Haydn and his contemporaries on historical instruments since 2007, with occasional excursions into 20th and 17th century repertoire. Members Kati Kyme, Anthony Martin, William Skeen and Lisa Weiss are leading players on the international early music stage. The ensemble has recorded four Haydn CDs, a work by Hungarian composer Imre Székeley, and their latest release, a recording of Schubert's monumental G major quartet. NEQ produces an annual subscription series in San Francisco, Berkeley and Palo Alto, and teaches a popular classical chamber music workshop every summer. For more information, please visit their website: www.newesterhazy.org.

If you have questions
Please email us at info@amateurmusic.org and we will get back to you as soon as possible.