Saturday, October 27, 2018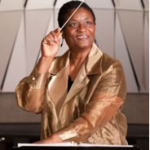 Dr. Lynne Morrow is the Music Director of Pacific Edge Voices. She and Pacific Edge Voices (then called Pacific Mozart Ensemble) received Grammy nominations in 2006 for the recording of Leonard Bernstein's Mass with Kent Nagano in Berlin. In 2010, the group's long-time collaboration with Dave Brubeck (including many world premieres) led to the release of "Dave Brubeck: Songs of Praise" with Dorian Recordings. A second recording of Brubeck's music, "Brubeck and American Poets," was recorded in December 2011.
Dr. Morrow is also the Music Director of the Oakland Symphony Chorus. During her tenure, the scope of the chorus has expanded to include contemporary, international and neglected works along with traditional classical repertoire. She conducts OSC's workshop performances of major works, a spring "Messiah," hosts summer choral outreach "sing-ins" and prepares the chorus for work with Oakland East Bay Symphony.

Pacific Edge Voices (formerly Pacific Mozart Ensemble) is a Grammy®-nominated chorus that has been captivating audiences around the world for 35 years. Our diverse repertoire of performances include collaborations with artists such as Kent Nagano, Dave Brubeck, Meredith Monk, and Bobby McFerrin.
For more information and to find out about joining the chorus, visit the PEV website.
If you have questions
Please email us at info@amateurmusic.org and we will get back to you as soon as possible.