with Matthew Young
March 2, 2020

San Francisco Symphony Mentor Matthew Young led an intimate and inspiring AMN workshop for violists. 20 workshop participants spent an amazing evening making music together.
Workshop Participant Resources
Hello!
We are delighted you will be joining us for this viola workshop.
Here are all the details you will need and resources to help you prepare.
Event Logistics

Monday, March 2, 2020
7 pm
Location: Drew School, 2901 California Street (at Broderick), San Francisco
Please come to the MAIN ENTRANCE on California Street. Doors will open at 6:30.
What to bring: Your instrument and your music. Stands will be provided.
Attire: Dress code is casual/comfortable. Please refrain from wearing scented products such as perfume or hair spray.
Parking: Parking is difficult in this residential neighborhood. We highly recommend public transit: the 1-California and the 24-Divisadero lines both stop just a block away at California and Divisadero. If you must drive, please allow plenty of time to find parking.
A message from our mentor, Matthew Young:
I'm looking forward to welcoming a group of violists on March 2nd, 2020 at the Drew School for the Amateur Music Network viola workshop! Expect an intensive and fast paced, yet fun evening of sharing viola concepts. I encourage anyone to record the evening so you can digest the concepts later more fully.
I learned what I know about this unique instrument from my mentor, Robert Vernon, and I'm excited to share my take on these fundamental principles. We will cover such topics as the ideal viola sound in different contexts, what is a good spiccato and how to build one, how to bend time musically without breaking it, and how to blend your sound within an ensemble. I'll be open to questions and answers and then we will read some viola ensemble pieces as a group at the end of the workshop.
Download your Music
Here are some fun pieces for viola ensemble that we'll enjoy playing together. To make sure we can have a balance of parts, please look at (at least) the following two parts and be prepared to switch between them.
If your last name starts with A to F, please work on the viola 1 and 2 parts.
If your last name starts with G to L, please work on the viola 2 and 3 parts.
If your last name starts with M to R, please work on the viola 3 and 4 parts.
If your last night starts with S to Z, please work on the viola 4 and 5 parts.
Please download and print your parts and bring them with you to the workshop.
Elgar - Enigma Variations - "Nimrod"
Fanfare for the Common Viola
We will take a deeper dive into two solo works: the beginning of the Stamitz concerto and the Bourées I and II from Bach's third cello suite. Please download and print these, bring them to the workshop, and be ready to explore!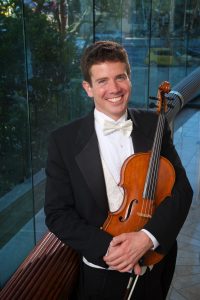 Matthew Young joined the SFS viola section in 2012. He was a founding member of the Verklärte Quartet, which won grand prize in the 2003 Fischoff National Chamber Music Competition. He currently performs as a member of Ensemble San Francisco. Winner of a 2007 McKnight Artist Fellowship for Performing Musicians and the Robert Vernon Prize for Viola Performance, he attended the University of Kentucky, Yale School of Music, and Cleveland Institute of Music.

Matt has spent thousands of hours practicing…and thousands of hours driving farm machinery. He was raised on a sixth-generation family farm in Kentucky, "a unique childhood for a symphony musician; to be a kid in the outdoors with siblings all the time was a huge gift."
To learn more about Matt and his passion for music, enjoy this "Meet the SFS Musicians" video produced by San Francisco Symphony.
If you have questions
Please email us at info@amateurmusic.org and we will get back to you as soon as possible.