with John Engelkes
October 1, 15, & 29, 2018
Drew School, San Francisco
Orlando Di Lasso - Echo Song
Michael Praetorius - Four Dances for Brass Ensemble
Richard Byrd - Celebration Fanfare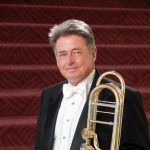 John Engelkes joined the San Francisco Symphony in 1981. A native of Iowa, he was previously a member of the Baltimore Symphony Orchestra and has also performed with the Minnesota Orchestra and the Florida Symphony. He studied with John Hansen at the University of Northern Iowa, where he received his bachelor's degree, and later pursued a master's degree at Northwestern University. At Northwestern, he studied with Frank Crisafulli and Edward Kleinhammer of the Chicago Symphony Orchestra. While in Chicago, Mr. Engelkes performed with the Chicago Symphony, Northwestern Wind Ensemble, Northwestern Symphony, Civic Orchestra of Chicago, and the Chicago Pops. Mr. Engelkes has appeared at the Saito Kinen Festival Matsumoto in 2011, the Grand Teton Music Festival, and the Sun Valley Music Festival. A founding member of the Bay Brass, he also serves on the faculty at the San Francisco Conservatory of Music, the Aspen Music Festival, and in 2014 was a guest artist and faculty member of the International Trombone Festival.
If you have questions
Please email us at info@amateurmusic.org and we will get back to you as soon as possible.