Hello!
We are delighted you will be joining us for a Music Mondays workshop.
Here are all the details you will need and resources to help you prepare.
Event Logistics

Location: Drew School, 2901 Californa Street (at Broderick), San Francisco
Please come to the MAIN ENTRANCE on California Street. Doors will open between 6:00 and 6:15.
What to bring: Your instrument, a music stand, and your music.
Attire: Dress code is casual/comfortable. Please refrain from wearing scented products such as perfume or hair spray.
Flute Blast!
May 14, 2018 at 6:30pm

A message from our mentor, Linda Lukas:
Hi Everyone!
Looking forward to seeing all of you again and experiencing the wondrous sounds of a full flute choir during our "flute blast"!!
I also want to spend some time addressing your flute playing issues so please come with any questions you may have for me about anything flute-centric!
This will be fun!  See you soon!

Download your music
Please print and bring with you to the workshop!
We are hoping to have a bass flute available at the workshop - please download the bass part if you are interested in trying it.
Please note: in the Rossini many parts are divisi. If your part has two voices, please look at both and we will divide up in the workshop.
(Chorales are in four parts for standard c-flutes. We will divide up to play them as warm-ups. Please look at all four parts.)
Suggested tempos for practice:
       Bruckner: half note = 100
       Rossini: quarter note = 138--150  (work on getting the 16th notes steady at the faster tempo if you can)
EXTRAS - handouts from the workshop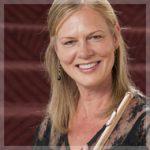 Linda Lukas joined the San Francisco Symphony as Second Flutist in 1990 and was Acting Associate Principal Flute for the 2004 and 2005 seasons. She has been a soloist with the orchestra in performances of Bach's Brandenburg Concerto No.4 and has also performed as soloist with the San Diego Symphony, Central Ohio Symphony, and San Francisco State University Orchestra. She has been Principal Flute of the Sun Valley Summer Symphony since 1996 where she has also been a frequent soloist and performer of chamber music. This summer in Sun Valley she will be performing Mozart's Concerto for Flute and Harp.
Previously, Linda was a member of the San Diego Symphony and has also performed with the California Ballet Orchestra, San Diego Opera Orchestra, and as Principal Flute of the San Diego Chamber Orchestra. She has appeared as a chamber musician at the San Luis Obispo Mozart Festival and the La Jolla Summerfest, and as a soloist at National Flute Conventions in San Diego, Los Angeles, and St. Louis.
A native of Ohio, Linda began her training at Ohio University and received her master's degree from the University of Iowa. In 1980, she was awarded a United States Foundation Grant and spent a two-year residency studying and performing in Paris, France. While in Paris, she studied with Michel Debost and Christian Larde and received a Diplôme Supérieur de Concertiste de Flûte from the Ecole Normale de Musique. She also gave a special performance at the Petit Palais for world leaders attending the Versailles Summit. Upon returning from France, she began work towards a Doctoral Degree in Performance at Northwestern University, studying with Walfrid Kujala and performing with the Civic Orchestra of Chicago.
In addition to performing with the Symphony, Ms. Lukas has been Instructor of Flute at San Francisco State University since 1991 and for ten years was a member of the Arioso Wind Quintet, which has recorded two CD's on the Koch International label. The most recent CD of music by Samuel Barber includes the Summer Music and the Capricorn Concerto, which features Ms. Lukas as soloist.
If you have questions
Please email us at info@amateurmusic.org and we will get back to you as soon as possible.