Four sessions Tuesday ∙ 7 p.m.
October 6 ∙ 13 ∙ 20 ∙ 27, 2020
A message from our mentor:
When I first became interested in historically informed performance, I imagined that playing Baroque music would simply be a matter of playing the violin a little bit differently.  I was right, but I was also so mistaken! It is more an attitude, a unique expressive commitment, and a joy.  I am very much looking forward to being with all of you in our four sessions together, as we explore the fascinating history and meaningful practice of Baroque style!
- Elizabeth Blumenstock
Workshop Information Page
Event Logistics

FOUR TUESDAY EVENINGS: October 6, 13, 20, 26 - 7 pm PDT 
Location: This workshop is online.
What to have on hand: Your instrument and a computer or other device that's connected to the internet. Registered participants will receive a link to join the workshop. For most of the meeting, all participants will have their own audio muted. If you have questions, you'll use the CHAT feature in the Zoom window to write your questions.
PLEASE NOTE: You must register in order to receive the meeting link.
This workshop is sold out for participants, however you may register as an observer via this link.
To access your meeting link

Go to the online event page.
You will be required to log into Eventbrite to access this page. Use the same email you used to register for the workshop. If you have trouble getting to the meeting link, please consult our online access instructions page.
Return to the online event page each week to use the same link for entry.
Series Overview from Elizabeth
Bibliography, for those who want to delve deeper
(with links when available online)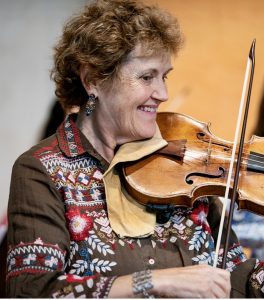 Widely admired as a Baroque vionist of expressive eloquence and technical sparkle, Elizabeth Blumenstock is a longtime concertmaster, soloist and leader with the Bay Area's Philharmonia Baroque Orchestra and American Bach Soloists, concertmaster of the International Handel Festival in Goettingen, Germany, and artistic director of the Baroque Music Festival Corona del Mar.
Her love of chamber music has involved her in many accomplished and interesting smaller ensembles oved the years, including the Galax Quartet, which performs both early music and commissioned contemporary works, Voices of Music, Musica Pacifica, Live Oak Baroque, Severall Friends, and Ars Lyrica Chamber Players. Festival performances include the Boston and Berkeley Early Music Festivals, the Carmel Bach Festival, the Oulunsalo Soi festival in Finland, and the San Luis Obispo Mozart Festival, among many others. She has recorded over 100 CDs for Harmonia Mundi, Dorian/Sono Luminus, Virgin Veritas, Koch, Naxos, Reference Recordings and others.
An enthusiastic teacher, Blumenstock teaches at the Juilliard Historical Performance Department, the San Francisco Conservatory, the American Bach Soloists' summer Festival and Academy, the International Baroque Institute at Longy, and the Valley of the Moon Music Festival in Sonoma, California.  She plays a violin built by Andrea Guarneri in 1660 in Cremona, which is on generous loan to her from the Philharmonia Baroque Period Instrument Trust.
If you have questions
Please email us at info@amateurmusic.org and we will get back to you as soon as possible.