An introduction to period pianos, and a hands-on, in depth exploration of a musical passage, with acclaimed fortepianist Eric Zivian.
October 24, 2020  |  2 p.m.
Workshop Information Page
Event Logistics

Saturday, October 24, 2020
2 pm PDT 
Location: This workshop is online.
What to have on hand: Your instrument and a computer or other device that's connected to the internet. Registered participants will receive a link to join the workshop. For most of the meeting, all participants will have their own audio muted. If you have questions, you'll use the CHAT feature in the Zoom window to write your questions.
PLEASE NOTE: You must register in order to receive the meeting link.
To access your meeting link

Go to the online event page.
You will be required to log into Eventbrite to access this page. Use the same email you used to register for the workshop. If you have trouble getting to the meeting link, please consult our online access instructions page.
Download your music for the workshop
Please take a look at the piano part to this middle movement of a Beethoven violin sonata. Make sure to study the entire score carefully, including the violin part, and learn the whole movement if you like. But be sure to prepare the short passages marked 1) and 2) in the score, which will be covered at the workshop.
If you are interested in performing during the workshop, please contact us at info@amateurmusic.org. We hope there will be time for 3-5 participants to perform for the workshop.
Eric talks about playing Beethoven on the fortepiano
This video starts at a discussion of the period instruments and their particular challenges and advantages. Feel free to listen to the whole episode for a wonderful conversation with Eric and Tanya Tomkins!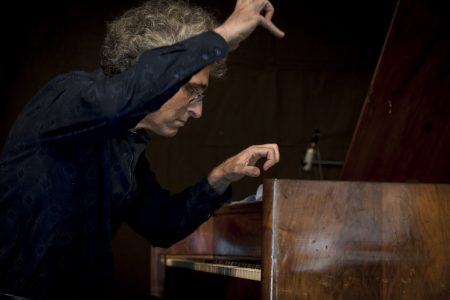 Eric Zivian is a fortepianist, modern pianist, and composer. He has performed with the Philharmonia Baroque Orchestra, the Portland Baroque Orchestra, the Santa Rosa Symphony and the Toronto Symphony, among others. He is a founder and Music Director of the Valley of the Moon Music Festival, a festival in Sonoma specializing in Classical and Romantic music on period instruments. Eric is using this period of shelter in place to learn all 32 Beethoven piano sonatas on the period instruments he owns.
Eric is a member of the Zivian-Tomkins Duo, the Benvenue Fortepiano Trio, and the Left Coast Chamber Ensemble. As a composer, he was awarded an ASCAP Jacob Druckman Memorial Commission to compose an orchestral work, Three Character Pieces, which was premiered by the Seattle Symphony in March 1998.
Eric studied piano with Gary Graffman and Peter Serkin and composition with Ned Rorem, Jacob Druckman, and Martin Bresnick. He attended the Tanglewood Music Center both as a performer and as a composer.
If you have questions
Please email us at info@amateurmusic.org and we will get back to you as soon as possible.