On April 17 we're raising the curtain on an online event sure to delight lovers of musical theater and cabaret: a conversation between singer/actress Karen Mason and her longtime friend (and AMN curator) David Landis. To give you a preview, we spoke to Karen at her home in Jackson Heights, Queens—"from our roof we can see the Manhattan skyline"—about her life in music.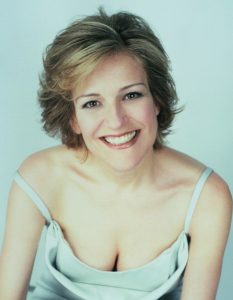 What was your early musical life like? Did you always enjoy performing?
I was born in New Orleans, and we kept moving north when my father's job was transferred—Atlanta, St. Louis, Chicago. There was always music in the house: my mother trained as a classical pianist, and my parents took us to musicals and concerts. My all-girls Catholic high school didn't do musical theater, but the boys' school did, so I auditioned and was cast as a townsperson in Annie Get Your Gun. And I was hooked! I was a dorky kind of kid, and this was where I felt accepted and at home. I'd had no training at that point other than singing around the house. But I just had to do it. From there, I went on to play bigger roles: Mrs. Paroo in The Music Man, Carrie in Carousel.
And after high school?
I should have jumped in, but at the University of Illinois the musicals were more actor driven, and the music school itself was more classical, which wasn't where I felt joy. I eventually left college and did a lot of community theater while unhappily working at a regular job. I wanted to be closer to people who were getting paid for doing what I was doing for free, so I auditioned to be a singing waitress at a Chicago restaurant called Lawrence of Oregano. And that's where I met Brian Lasser, a brilliant musician, actor, songwriter, and pianist. We left the restaurant and started doing nightclubs and concerts, moving up the foodchain. In 1978 or 1979 we moved to New York. We worked one night a week for two or three years at the Duplex in the Village. That didn't pay the rent, so in between shows we'd fly back to Chicago, do enough work to make three or four grand, and come back to New York. We worked together until Brian's death in 1992. I still perform quite a few arrangements he did early in our career.
You've also had an impressive career in theater.
I'm not just a cabaret person, or just a theater person. I enjoy the diversity, going back and forth.
This is probably an impossible question, but we'll ask it anyway: Can you single out a highlight of your stage career?
Probably the first time I understudied the role of Norma Desmond in Sunset Boulevard. This was in Los Angeles, and Glenn Close was starring. I got two days' notice—Glenn's doctor had told her to take one of the Sunday performances off. She did the matinee and I did the evening show. You don't get a lot of rehearsal time as an understudy or standby, but this was February and we'd opened in November, so I was ready! I'd watched from the back of the theater and gone through all the choreography. I still had to learn all the costume changes—with three dressers!—and learn the props and set. It was an amazing set—the mansion would lift up with hydraulics, and there'd be an entirely new scene underneath. It was weird the first time I rode up in it, but I learned to love it.
I stayed with the show after it moved to Broadway, and I understudied the next two leads, Betty Buckley and Elaine Paige. Over the course of two years, I did about 250 performances.
There haven't been many live performances since March 2020. What's your musical life been like during the pandemic?
My last performance was in November 2019, in Chasing Rainbows: The Road to Oz at the Paper Mill Playhouse in Millburn, New Jersey. I got sick after that and wasn't able to do any Christmas shows, and then, of course, I had to cancel all of 2020.
I was getting bored, so I decided to learn how to do self-taping and streaming. Every Thursday since April 2020 I've done a show, "Mason's Makin' Music," where I sing to tracks. It's been fascinating. In cabarets you have 60 to 100 people in the audience. Online I've had 3,000 people listening! It's great to connect with them, but I do miss seeing eyes in an audience and feeling that energy. And singing with a piano—oy, I can't wait for that!
I'm doing a few things this summer, though. On May 15 I'm doing a free indoor concert at the Frank Campbell Funeral Chapel in Manhattan—it's a beautiful historic building, and it'll be the first time I've sung with a live piano in over a year.
I'll have a new CD out this fall. My previous CD, It's About Time, was produced by Paul Rolnick, who also wrote the title song—he wrote it for some friends shortly after marriage equality became legal in New York. I sang it at those friends' wedding. It's not just about gay marriage equality; it's about all marriage equality. If people are in love they should get married!