This is a guest post by Nancy Friedman, an AMN volunteer.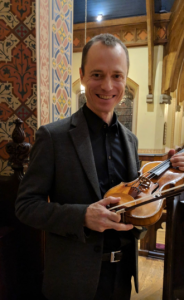 We were thrilled when Garrett Fischbach posted his teaching services to our online Listings. Not only does Garrett have 25 years' experience with three of the most prestigious orchestras in the United States, but he also has a true passion for teaching adult amateurs. Furloughed along with the entire Metropolitan Opera Orchestra and Chorus since March 31, he spoke to us from his home in New York about his teaching and performing philosophy.
What can students expect from your lessons?
I teach enthusiastic intermediate and advanced violin and viola students of all ages who want to improve their skills, either to perform with friends or community orchestras or simply to get more pleasure out of playing.
As the song goes, "If you become a teacher/By your pupils you'll be taught." What is something you've learned from a student?
I recently went through old files and came across a folder of essays written by my undergraduate Violin Performance students at Mannes School of Music [in New York] in 2010. I had asked the students to write a paragraph or two about their short- and long-term career goals, and one student wrote these very inspiring words: "The other possibility that I have been contemplating is to just live simply, and have the violin and music in general, as a gift to be cherished, rather than an obligation to be mastered." A decade on, I couldn't help wonder what this person was up to. I looked him up, and it turns out he has been doing exactly what he said in that sentence he wrote. He is in fact still playing the violin, but very much on his own terms in his own original way, while making a living doing a variety of other fascinating things. His example gives me much inspiration during these uncertain times.
We love the idea of music as "a gift to be cherished." Can you tell us more?
In the MET Orchestra, we are of course always listening to great singers—both on and off the stage. The English mezzo Dame Janet Baker once gave an interview in which she said something about this idea of "gift." She acknowledges that she is "gifted," and says a friend told her that this gift "is hers to enjoy." We are not all quite as gifted as Janet Baker, but even amateurs have a gift, and that is the love for the music they play. (Listen to the interview with Janet Baker.)
What is a common challenge amateur musicians face?
A lot of the time amateurs don't realize just how much they can do. All they need is a little bit of prompting from someone who has the keys and opens the door to a lot of technical challenges that they thought were beyond their reach and also a lot of ways of thinking about the music. That's what professionals can share with amateurs.
Learn more about Garrett Fischbach's teaching services on our Listings page.