We're very much looking forward to hosting an online dialogue on February 20 between two people we admire greatly: David Landis and Jake Heggie. David is the president of Landis Communications Inc. in San Francisco and a member of AMN's advisory board. Jake is one of the premier vocal and opera composers of our era; his compositions include the operas Dead Man Walking (2000) and Moby-Dick (2010). Over email, we asked them to give us a foretaste of their conversation.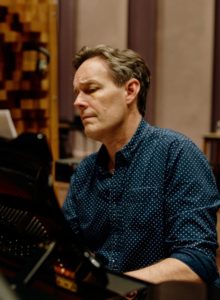 David: We met when I was the public-relations director for the San Francisco Symphony and Jake was doing in-house public relations for the San Francisco Opera.
Jake: I started there as a writer in April 1994. I don't remember exactly when we met, but it was very shortly after that.
David: The San Francisco Opera's PR department has brought us some great talent! Besides Jake, there's Armistead Maupin, author of Tales of the City.
Not many serious composers have a background in public relations like yours, Jake! What did you learn about music, and musical institutions, from working in PR?
Jake: It actually started for me in Los Angeles in the late 1980s. I had suffered a hand injury, focal dystonia. That forced me to stop playing piano, which was pretty traumatic. While I was reeducating my hand with an entirely new technique—starting with scales!—I had to find a way to make a living. I discovered I could write well about music and the arts. I got a job at the UCLA Center for the Arts as the PR and marketing writer, and then moved to Cal Performances [at UC Berkeley] and finally the San Francisco Opera. It was a great education. I met people from every corner of the arts: administration, donors, artists, stagehands, props, costumes, wigs and makeup, front of house, box office, art managers, writers, press, publicists. That education has served me well through the years because I learned early about the totality of the business—not just one perspective. Also, my job at the San Francisco Opera was to write about every corner of the opera house and what was going on in it, and relate that to the world somehow. It was heaven! I attended everything, met the most amazing people, took them to interviews, spent time with them … and then started writing songs for the great singers coming through. It was the best apprenticeship ever for an aspiring opera composer … except I didn't even know I was an aspiring opera composer at the time!
David, you used to sing in the San Francisco Symphony Chorus. Have you ever sung any of Jake's works? Any insights from the singer's point of view?
David: You give me a lot of credit! I think I only got into the Symphony Chorus because they knew I did PR for the symphony and thought I could help promote the chorus! Sad to say, but I have never sung any of Jake's works. Let's put that on my bucket list, please! What I will say as an observer and an audience member is that I'm always impressed with the lyricism of Jake's music. I think that would be so gratifying as a performer.
Jake, can you tell us a little about what it's like to receive a commission for a new work?
Jake: A commission is a gift of possibility and a vote of confidence to an artist. It's the opportunity to find and create something meaningful: to collaborate with great colleagues and go on a wonderful adventure together. I don't think I've ever been told what to write; I'm usually asked what inspires me in the moment. Because if I'm not inspired, it's not going to be good! It has to be something that gives me musical shivers—where I don't necessarily know what the music is, but I know the music is there. So I'm asked to create something for a specific occasion, singer, ensemble, company—whatever—and we explore what inspires me that also inspires the company. From there, I suggest the writer, director, conductor, and singers that I want to work with—again, people who inspire me and the team. It's all about having the right people on the team. One weak link can bring the whole thing down.
Singers like Nick Phan, who has also led an AMN workshop, are huge fans of your work, Jake. Do you write for particular singers' vocal ranges or abilities?
Jake: I always write for specific singers. Their personalities, idiosyncrasies, and voices are what help me write something specific, clear, and strong. Imagine you're a screenwriter and you're asked to write a script for a movie about [former US Secretary of State] Madeleine Albright. You think, hmm, OK, Madeleine Albright. And then they say, "Oh, and we have Meryl Streep as Madeleine Albright." Well, HELLO! Now, just about anything is possible, right?
David, you'll be moderating the online conversation on February 20. Want to give us any hints about what you're planning to ask Jake?
David: I'm always curious not just about the past but about the future. So maybe we can persuade Jake to look into his crystal ball and give us some juicy tidbits that point to the future.