What better way to ring out 2020 and ring in a new year than with Sarah Cahill, a renowned pianist and advocate for new music? On Saturday, December 5, Sarah will join us via Zoom to talk about her multifaceted musical life, which spans performing, commissioning and premiering new works, writing about music, and hosting "Revolutions Per Minute," a long-running radio program on KALW-FM in Berkeley.
We chatted with Sarah via email, eager to learn more about her influences, her inspirations, and her process for commissioning new work.
You've accomplished so much in so many areas: performance, writing, radio hosting, working with composers. Do you have a primary passion? What's the most fun for you?
The piano is definitely the focus, and my primary passion. I have to guard those hours at the piano, because there are always deadlines and other obligations, but the piano always comes first.
Is it tricky to balance between being an active musician and being a music commentator?
It is sometimes tricky, but every part of my life supports the other parts. For instance, I recently did a Zoom talk about women composers for donors for the San Francisco Symphony, featuring music by Florence Price and Gabriela Ortiz, among others. When I perform music by Price and Ortiz, I do a lot of research to get a more comprehensive understanding of their work. I include their music on my radio show as well. And learning more about them for the Symphony talk then enhances my performances of their piano music.
There are also composers I meet through interviewing them on the radio, and in listening to their music, I end up commissioning them. Regina Harris Baiocchi is the most recent example. In the cases of John Adams and Terry Riley, I consider writing essays about them for books, writing liner notes and program notes, interviewing them on the radio, and performing their music all part of a good symbiotic relationship, for which I'm very grateful.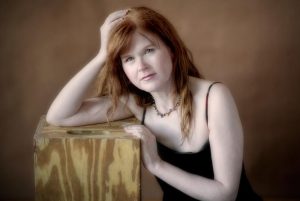 Which composers or mentors have had the biggest effect on your musical development? 
I never really heard much new music until I met John Adams and Ingram Marshall when I was 17 (my father was friends with Andrew Imbrie, but he also considered Stravinsky and Bartok to be "modern"). Even after that, my focus was on classical music.
My two mentors in newer music were Larry Polansky and Charles Amirkhanian. In 1985, when I was writing classical music reviews for the East Bay Express, I contacted Larry Polansky because I had been assigned to write about one of his compositions, and asked if I could see the score in advance. We became friends and he introduced me to music by Lou Harrison, Ruth Crawford, Henry Cowell, and Dane Rudhyar, and that really set me on my life's path.
Meanwhile, I was fascinated by Charles Amirkhanian's radio shows at KPFA and his Speaking of Music series at the Exploratorium. I was thrilled when he invited me to try hosting a radio show at KPFA in 1989. I've learned so much from both Larry and Charles over the years.
Other composers, like John Adams and Pauline Oliveros, have been very supportive and helped me a lot along the way.
Can you tell us a bit about how you identify talent and commission new works? 
The most important thing is to believe in the composer and the music wholeheartedly.
There are plenty of wrong reasons to play new music: commissioning a famous composer because it's good for your career, or trying to fulfil a diversity quota, or because that composer is trendy. I do a lot of research and listen to lots of the composer's work, and imagine what the piano music would be like, if he or she hasn't written for piano.
I feel it's also important to support and encourage a range of composers, from teenagers to octogenarians, from varied backgrounds. I've gotten fantastic scores from unknown composers, and terrible scores from famous composers.
And it's very important to have the money discussion up front.
Top photo by Miranda Sanborn.