This is a guest post by Jerome Simas, clarinetist with the San Francisco Symphony and a founding AMN board member.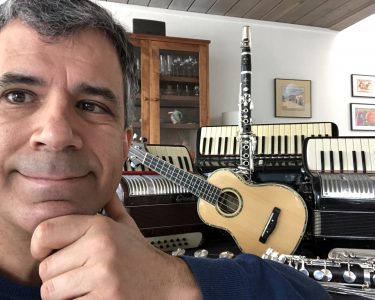 I've been a professional musician for so many years now that I'm not even sure I could figure out how long. I grew up in a family that was so passionate about music. Metropolitan Opera broadcasts blaring throughout the house during weekend chores, Boston Pops on PBS, folk singers visiting our house when my sister was a 1970s high school student, marching band practice, and the best-of-all story of family lore of my mom apparently putting me in a laundry basket underneath the piano while she accompanied her amateur singing friends from church and community theater: Fiddler on the Roof, Church hymns, Arthur Fiedler, and La Boheme are all just a big blur in my musical DNA.
My father was an accordionist of some renown in Sacramento and the Bay Area back in the heyday of the post WWII can-do optimism. He played gigs, taught lessons, repaired instruments and kept all seven of us Simas kids fed and clothed…that is until the Beatles hit our shores, and no one wanted to play the accordion anymore. So off he went to other professional pursuits. The clarinet seemed like a natural fit for me…a reed cousin of the accordion. My mom was relatively frugal with expenses, but music lessons were something she could get behind. Sacramento Youth Band, Sacramento Youth Symphony, state honor bands in Fresno, Santa Cruz, and Long Beach…Mom and Dad always made time for these things.
I have three of my dad's accordions sitting on shelves in the garage. I also have a ukulele that I bought as a fun gift for my partner, Robert. That, too, is sitting forlornly in a corner of the living room gathering dust. Now that I'm home for an undefined period of time and with actual time to practice the clarinet the way I want to and should, I'm finding myself more drawn to these other instruments that remind me of family and days gone by. I don't even know where to begin, but begin I shall.
During this time of uncertainty, let music be your go-to place. Make music if it means singing your own tunes, producing your creations on your computer, or fumbling your way on a dusty old accordion or ukulele.
I'm blessed to have landed a gig with the San Francisco Symphony with our deep connection to the symphonic greats, world class conductors and soloists, tours (weeps inwardly that we had cancel our last and greatest tour with dear MTT), and playing for our marvelous audiences in San Francisco and beyond. Since my involvement with AMN, I have also been so inspired meeting with and mentoring the Bay Area's wealth of music makers of all levels. We'll get through this national crisis. Along the way, the rhythms and melodies of who we are will help to ease the way.