This is a guest post by Kathy Angus, a retired SFUSD teacher and former arts administrator. She is currently on the board of AMN and the Chrysalis Foundation.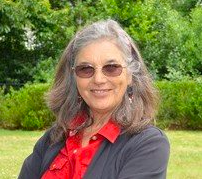 I recently retired from teaching in the SFUSD public schools. When I first thought about writing a blog post for AMN, I thought I'd focus on the importance of music as a creative force in kids' lives. For five years, I worked with a music educator from the SF Opera to create (write, compose, stage) a 15-minute opera, based on a social justice topic my 4th and 5th graders had studied all year. The topics ranged from Immigration to civil rights to the environment. It was one of the most transformative experiences some of my students had during their elementary years. But then I realized it transformed me as well, and actually set me up to pursue something I loved, but dreaded sharing, after I retired.
I realized that I am a recently declared amateur musician who grew confidence to participate in community singing groups because of the musical projects and collaborations in my classroom. It's so much more relaxing to act and sing with 10-year-olds than with adults, where my voice would dry up. Those notes that were so beautiful in the shower stuck somewhere behind my tongue when in the company of others.
I love music down to my toes. I've danced since the day I could walk, so I'm one of those people you hate to sit behind at the Symphony because I'm incessantly bobbing my head to the beat, or tapping my knee, or shaking my shoulders — you know what I mean. What it means to me is that music is in my body, and, over the years, I shared my art with audiences in concerts and musicals. The musicals were a mixed bag, however, since the usual instruction was, "It's ok, you're a great dancer, but you don't need to sing." After a few of those comments, I was too embarrassed to even try to learn. (And, of course, my kids pleading with me not to sing in the car didn't help.)
Then one year while I was teaching — by then I was into my 60s — the SF Opera Aria program came into my life. We practiced vocalizing through exercises and songs, and then created our own songs, which years later are still stuck in my brain. With a musician coming into my classroom every week all year, and then practicing with the students in between, I found the miracle of repeated practice that gave me the confidence to join a Community Choir, and then another, and then to start taking voice lessons.
I love AMN for their efforts to spread the joy of amateur music making through their workshops and network tools. Someday, I may be ready for Ragnar Bohlin's brilliant choral workshops, but for now, I'm happy just singing however I can and appreciating the work and practice it takes to improve.
When I worked for Milton Salkind at the Conservatory of Music, he used to frequently stress that "everyone loves to sing." How right he was! Let's sing our way through these difficult times and find the joy that lies inside of us.