How does a musical-theater teen and aspiring Contemporary Christian singer find her way to the grand opera stage? In our January 30 online conversation, soprano Hope Briggs will talk about her musical education, her musical mentors, and how she became an acclaimed interpreter of Verdi roles. As an overture, Hope chatted with us from her home in San Bruno, California, about "how opera found me."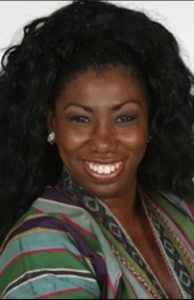 What was your introduction to music? Did you listen to opera when you were growing up?
I grew up in a musical household in San Francisco and later on the San Francisco Peninsula, but my interest in opera came later. My mother, my father, my sister, and my brother all sang, and we often sang together—my mother would play the piano. I was so shy as a child that I would stand in the closet and sing from there!
My father was a minister, and I sang in the church choir, and occasionally I sang a solo. My mother involved me in various children's groups: tap, ballet, theater. As for opera, my mother had a few classical albums, and I enjoyed listening to Leontyne Price's Christmas album, but I wasm't very interested in her operatic work. I was more interested in Broadway musicals. And I liked Contemporary Christian music, which suits my voice better than gospel.
For some reason, I was asked to join my high school's jazz band, even though I didn't know a lot about jazz. We went to the Reno International Jazz Festival and did quite well.
Did you know from an early age that you'd make a career of music?
At Skyline College [in San Bruno, California], which I attended after high school, I didn't focus on music, although I did take a vocal workshop, which is where I developed a real love for jazz. My teacher saw something in me and told me I could get a full scholarship to USC if I studied opera. I said, "No, thank you." I didn't want to do that. I had a sense that it would be hard to make a living in music. So I was thinking about pursuing law or writing or maybe psychology.
Then, out of the blue, a high school friend dropped by my house unannounced and said, "I want to talk to you. You're not doing what you do best, which is singing." It was out of character for her—she wasn't an especially bold person. She just cared enough to come over and tell me that. It got me thinking. I began looking into schools with good music programs. Cal State Fullerton, which had an excellent jazz band, was on my list.
I called the music chair, Jane Paul Hummel, and told her I was thinking about applying. She said, "Are you good?" That was a surprise! I said, "Yeah, I'm good!" She invited me down for an audition. What's amazing to me is that she picked me up at the airport and hosted me—I stayed at her house. She had me sit in on a vocal workshop. She had a student take me out to dinner. She took me under her wing.
She sounds like the perfect mentor.
She started from square one with me. I'd never had a formal music lesson at that point.
What was your audition like?
For my audition, I sang "Cry Me a River" and a Contemporary Christian song, "We Shall Behold Him." They asked me if I knew any opera. The only thing I knew was the "Habanera" from Carmen, so I sang that.
They offered me a full scholarship, and Jane offered to teach me. By my third year I was entering competitions and doing apprenticeship programs. And I was singing opera—I didn't have a choice, studying with her. I fell in love with it. Although I did sing a few times with the jazz band.
We did a little research and found a review in the Los Angeles Times of a Cole Porter revue at Cal State Fullerton. The reviewer singled you out for praise: "Of the better singers, Hope Briggs stands out with a voice that is strong and mellowed and put to good use on the torchy 'Hothouse Rose.'"
I still love musical theater! Last April, I watched the Stephen Sondheim 90th-birthday concert—I love Sondheim's lyrics—and since then I've been watching a lot of musicals on YouTube and looking again at my musical theater pieces. In many ways the pandemic has removed the barriers between classical and popular music.
Are there any operatic roles you haven't yet sung but would like to?
I'd like to sing Elvira in Ernani. One of the things I like about Verdi is its agility, which suits my voice. I have a dark-colored voice, and people don't expect it to move as fast as it does.
I'd also like to get into some Handel. When I was working with Sheri Greenawald, and she told me, "You have to do Handel—your voice loves it!" [Read about our July 2020 conversation with singer and mentor Sheri Greenawald.]
What are some things you've been doing since performances and touring were put on pause?
I've been rediscovering my love of writing—poetry, short stories, personal essays. I've also had the opportunity to do some online singing. Nicole Heaston, who sang Countess Almaviva in San Francisco Opera's Figaro in 2019, put together a collaboration of 65 African American opera singers singing the Negro National Anthem, "Lift Every Voice and Sing."
And I also started my own YouTube channel, "Bringing Hope 2U." I felt the need to bring hope and peace and encouragement to people during this difficult time. I'm giving myself permission to be me, to not be put in a corner. I'm saying, This is Hope, and Hope loves music.