This is a guest post by Nancy Friedman, an AMN volunteer, who writes: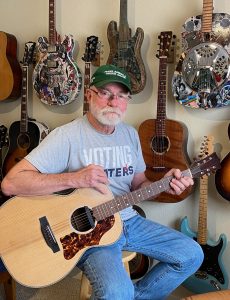 "I've known Ken Smith as a friend and a photographer for many years, and I've enjoyed his Instagram posts and music videos. When I learned that he'd posted a listing on the AMN website, I saw an opportunity to learn more about his musical life and to share our converstion with the AMN community."
Your listing says you're a singer-songwriter and rhythm guitar and fingerstyle player. What led to these interests? Did you grow up in a musical family?
My father was in the US Air Force, so we traveled around a lot. My family wasn't musical, but there was music in the house—mostly Big Band records and country-western radio.
When I was in fourth grade, in Hutchinson, Kansas, students had the opportunity to learn a musical instrument. I thought it would be cool to play drums, but my mother said no. I ended up with a clarinet, but I hated the taste of those reeds! I switched to French horn, but carrying it back and forth to school was too much for me, so I gave up.
By the time I was in high school we were living on the air force base in Newfoundland, Canada. Some guys I knew had formed a band, which sounded like fun. I bought a $13 guitar from the Sears catalog and taught myself to play some chords. But the guys needed a bass player, so I went back to the Sears catalog, bought a bass guitar, and told the guys they'd have to teach me how to play it. We got good enough to play Saturday nights at the teen club on the base. The four of us made $55 a gig. So I guess I was a professional musician for a while!
Are you mostly self-taught? Have you taken any formal lessons?
In high school, we taught each other. It was like the famous story about the Beatles traveling across Liverpool to learn the B7 chord. Wow, a new chord!
In the late 1990s I started taking individual and group classes in jazz guitar and lead guitar at the Blue Bear School of Music in Fort Mason. My teachers there included Jim Peterson; Joe Cunningham, a great guitarist and quiltmaker;
and the late Johnny Nitro of the San Francisco band Johnny Nitro & the Doorslammers. More recently, I've twice traveled to Portland, Oregon, to take workshops from the fingerstyle blues guitarist Mary Flower—a wonderful musician and generous teacher. Mary introduced me to the music of Duke Robillard, Albanie Falletta, Guy Davis, and other terrific blues guitarists.
When did you start writing your own songs? What inspires you?
I started writing lyrics in 1974 or 1975, when my first marriage was breaking up. But it took me more than 40 years to put them to music. I learned by listening to songs I liked and studying their structure. I have a limited vocal range—maybe an octave at most—so I pick keys I can sing in.
In 2017, we were displaced for 10 days by the fires here in Santa Rosa. During that time I started writing about the experience, and what came out was "Firefighter in the Smoke." For the lyrics, I wrote down every word I associated with fires and firefighting, and then started putting them into couplets.
I earned a living for many years as a corporate photographer and videographer, so it was only natural that I'd start making music videos—my own songs, like "Raven Blues," and traditional songs, like the Irish folk tune "Drill You Drillers," which was inspired by the soil-sampling crew in my Santa Rosa community!
Tell us about the guitars you've built and restored.
I've made five guitars from scratch and repaired about 35. I'm self-taught in that area, too—I watched a bunch of online videos. My first guitar was made from Adirondack spruce, mahogany, and, for the neck, pau ferro. I made another guitar from Tennessee sweet gum, Engelmann spruce, walnut, and rosewood. I don't do inlays—it's too persnickety.
And then there are all the guitars I've repaired and kept. In the room I'm sitting in right now there are 31 guitars.
I haven't yet made the perfect guitar, and I don't think I ever will. But that doesn't keep me from being obsessed.
Raven Blues by Ken Smith from Ken Smith on Vimeo.