This is a guest post by Nancy Friedman, an AMN volunteer.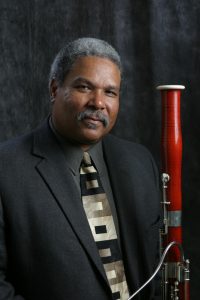 We hope you've registered for our October 10 online conversation about "the musician's toolbox" with
the accomplished and delightful Rufus Olivier Jr. A consummate musician and educator, Rufus is
principal bassoonist with the San Francisco Opera and the San Francisco Ballet, and a former member of
the San Francisco Symphony. We chatted with him on a warm September afternoon while he was taking
a break from a nonmusical activity: painting his house in Sonoma County, California.

What is "the musician's toolbox," and how can amateur musicians use it?
I came up with the idea of the musician's toolbox when I had to give a talk to some high school kids. I printed up some signs and brought them in a little Craftsman toolbox—that's right, a literal toolbox. On each piece of paper was something a musician needs to practice to get better: long tones, scales, arpeggios, etudes, and so on.
What's an example of one of these tools?
Long tones are one of the most important tools, especially for a wind player. They get you in touch with your instrument—you're breathing through it, and it becomes an extension of you. It may seem like a boring exercise, but it may the most useful and important one. After a while it almost becomes a meditation.
When was the last time you performed for an audience?
Opening night of the ballet's "Midsummer Night's Dream" was Friday, March 6. It was also closing night—after the performance there was an announcement that the city of San Francisco was shutting down because of the pandemic. The following Tuesday they let us back into the Opera House, and we made a video for ticketholders. It's really good! I really enjoyed being able to listen to the orchestra without my brain constantly on what I'm doing. [Watch a one-minute excerpt from the recording.]
How have you spent your time since the shutdown?
I've been performing since I was 15, and I've been with the ballet and opera for 43 years, so the shutdown has been like a long weekend off. I painted my house, fixed my lawnmower, got my motorcycle working. I've also continued teaching—one of my Stanford students did her whole graduate recital online, with her family members accompanying her. It was great!
I've also made a ton of videos. I get up in the morning, practice, and make a video. [Watch Rufus Olivier Jr.'s video for Music in May, a festival in Santa Cruz that was canceled because of the pandemic.]
How is online teaching working out for you?
It's definitely getting better. Zoom is getting better! I was even able to play a duet with one of my students on Zoom