Are you a classical violinist looking to extend your musical horizons? A bluegrass musician who wants to go deeper? Then our March 13 online workshop with Alisa Rose is for you. Alisa trained as a classical violinist and branched out into bluegrass; her compositions blend elements of both genres. We spoke with her to learn more about her background and interests.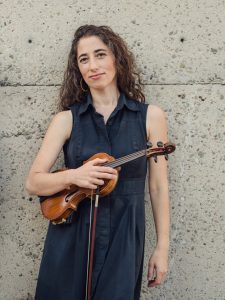 When did you start playing music?
I grew up in Verona, Wisconsin, near Madison, with two older sisters who played the violin. I insisted on playing the violin too, and my mother was nice enough to accommodate me! I started with the Suzuki method when I was 3, and when I was 5 I began entering local fiddle contests at little fairs, Hometown Days, that sort of thing.
What did you play in your first contest?
I remember playing "Boil Them Cabbages Down." We were also supposed to play a waltz, but I hadn't learned one, so I played "Twinkle, Twinkle, Little Star."
What came next?
I played in a high school string quartet and the Wisconsin Youth Symphony Orchestra. I was also in the Southwest Wisconsin Oldtime Fiddlers Association. Then I came to California to attend the San Francisco Conservatory of Music. At that point I was interested in folk music but not bluegrass specifically, but within a couple of years I'd joined a bluegrass band. I liked the melodics of bluegrass, and also how social it is—people hung out and played together. I liked that energy.
Who were your musical influences?
Darol Anger [the American fiddler, composer, and founding member of the David Grisman Quintet] was a big influence—he really brought me into bluegrass. I didn't take lessons, I just listened and picked things up. At one point I lived near the beach in a big house with a bunch of Conservatory kids who were interested in bluegrass. We had a weekly jam—I learned so much from that. And I went to festivals like the Strawberry Music Festival [in Grass Valley, California], the Grass Valley Father's Day Music Festival, and my favorite, the RockyGrass Festival in Lyons, Colorado.
We haven't been able to attend festivals or concerts for a year now. How have you been spending that time?
I've been teaching Zoom classes—I'm glad that's possible. And I've been composing. I got a grant from the San Francisco Arts Commission to write a concerto on the theme of inclusivity, based on interviews I did with members of Bluegrass Pride. There will also be a string-quintet version. The concerto was supposed to be performed by the Bay Area Rainbow Orchestra at Herbst Theatre in San Francisco in June, but it may have to be rescheduled.
What can participants expect to learn in your March 13 workshop?
I'm going to teach a great fiddle tune by ear. They'll learn how to use the bow in a more rhythmic way—the bow is what drives the music in bluegrass, as opposed to that beautiful singing lyrical tone of classical music. The left hand is important, too: you can get a lot of expression from slides and double-stops.
*
*
While doing background research for this interview we found a story in the July 3, 1988, edition of the Wisconsin State Journal that mentioned young Alisa's performance at a Dane County, Wisconsin, fiddle festival. "The 9-year-old Rose, wearing red bows in her long black hair, fiddled, while Herb Swingen, on string bass, and Ron Kittleson, on guitar, both of rural Mount Horeb, accompanied her. She captivated listeners when she played 'Boil Them Cabbages Down,' her favorite. Rose, who was fiddling at her 5th festival said she has been playing the violin since she was 3 and fiddling since she was 5. She said she prefers fiddling to playing classics by Mozart or Bach. 'It's fun,' Rose said with a grin. 'I guess the other things seem pretty regular.'"